Many teachers are familiar with the O.R.E.O planning model to assist students to write persuasive texts, where O.R.E.O stands for Opinion, Reason, Example, Opinion.
I wanted to come up with something just as simple for the planning of writing a Narrative, utilising an orientation, complication and resolution, with students focusing on the language choices they make as well.
And  thus  O. P. A. L. S  was  born.
Originally I had and trialled with my class:
O – Opening (How will you start the story)
P – Problem (What complication/s will arise)
A – Action (What actions will follow the problem)
L – Language (What language choices will you use)
But after some consideration I added:
S – Solution (How will you resolve the problem)
Each letter follows the sequence of a narrative except for the L.
I added the Language section to get students to think about the types of devices they would include. Vocabulary, adjectives, similes, etc, the Language section is a place to record them as they come into your head when planning a narrative.
The reason I didn't call the O 'Orientation' was to get the students to think about their very first line, how will you OPEN your story. This follows on lessons we have done on 'hooking' your reader in from the very beginning. You will see that the 'Opening' poster mentions orientation as well.
I made some posters for each section. To purchase the entire set of posters as a PDf visit my teachers pay teachers store.
This was accompanied by some planning sheets with sections for each part of the O.P.A.L.S process. I modelled this approach with my class by simply writing O – P – A – L – S underneath each other down a blank page, and wrote bullet points next to each part.
We had been reading and writing about 'Adventures on the High Seas' and I showed my year 5 and 6 class two fantasy images, one of a mermaid and one of a pirate ship. They had to use both or one of the images to plan and write a narrative using O.P.A.L.S (at this stage though, we only used O.P.A.L). Click here to download a free copy of the planning document used below.
Here are some samples of their planning: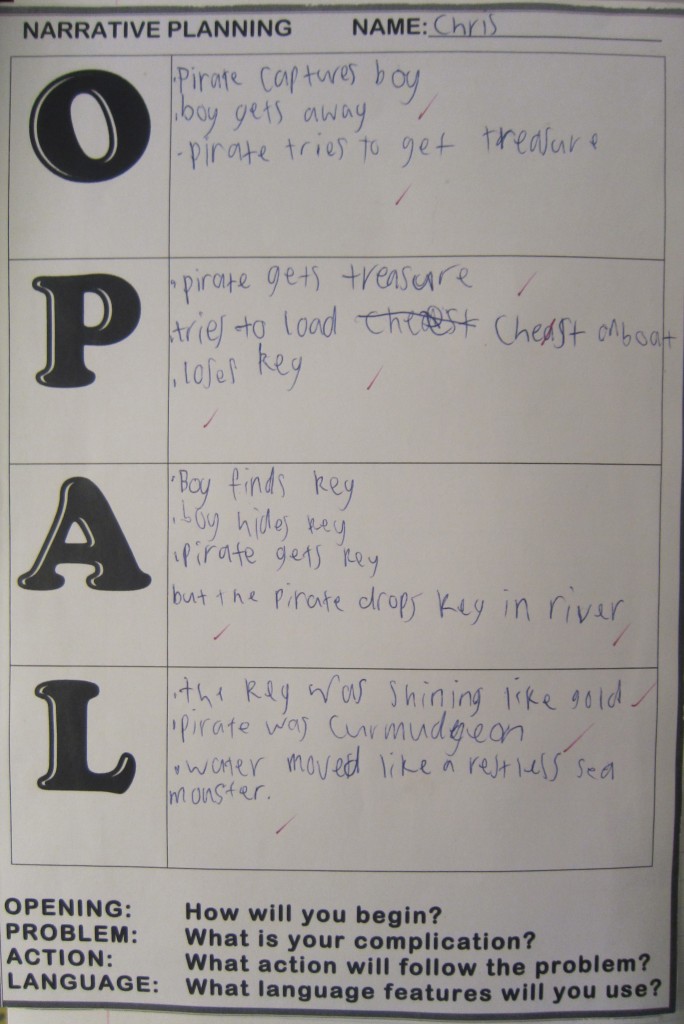 The following week we used our planning to write a narrative. The results were really good, with many using the O.P.A.L sheet effectively.
Here is a slideshow of some of the best narratives.